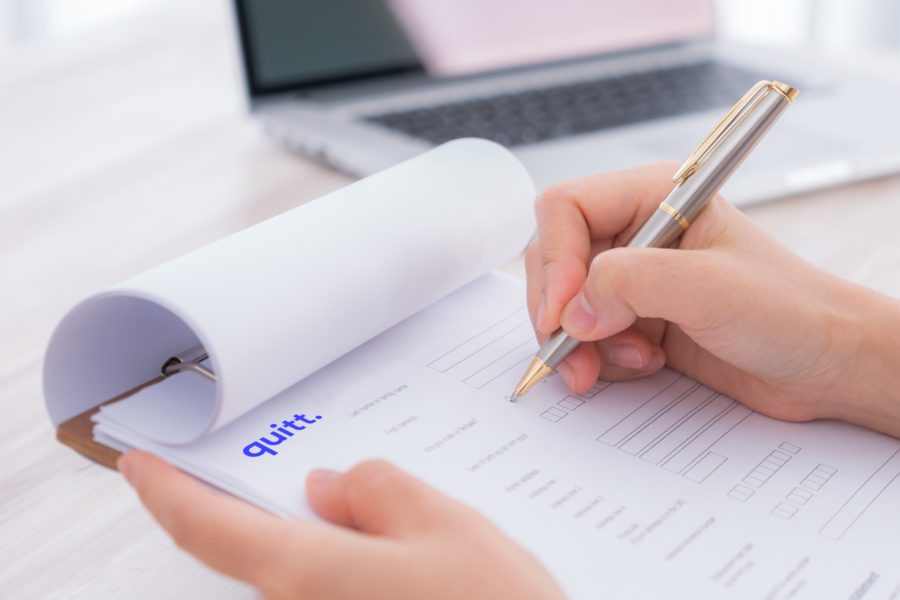 Everything under control thanks to the exit checklist
Have you terminated your employer-employee relationship? When your employee* leaves your household, you as an employer have to fulfil certain obligations. To give you an overview of the tasks to be completed, we have compiled a leaving checklist for you and explained the individual steps. Thanks to this checklist, you can tackle your tasks step by step, without forgetting anything important. 
Important obligations as an employer
Create a work certificate
Upon termination of the employment relationship, the employee is entitled to a work certificate in the form of a final report. To save you time and patience in writing your work certificate, we have prepared a free downloadable template for you. After downloading, all you have to do is customize the template, personalize it and you're done. For more background information about creating a work certificate and downloading our template, read the blog "Work certificate for your domestic help in a few minutes".
Observe duty to inform about UVG
As an employer, you are obliged to inform your domestic help about his insurance situation when he leaves. You have the obligation to inform your employee in good time that he will only be insured for an extra 31 days once the employment has terminated. At the end of this period, the future employer must then take out compulsory accident insurance. If the employee does not take up a new employment relationship, he must take out private accident insurance with his personal health insurance. It is also possible to take out an agreement insurance through GENERALI, quitt.'s insurance partner. The agreement insurance allows the employee to simply extend the insurance coverage for non-occupational accidents for up to 6 months.
If you have taken out sick pay insurance via quitt., you are also obliged to inform your employee about the possibility of transferring the policy to an individual sick pay insurance.
The GENERALI leaving information form summarizes the most important points. You can simply hand over the information sheet including the leaving form to your employee, so that he can take care of his future insurance situation on his own. To obtain written confirmation, we recommend that you print out the form in duplicate, have one copy signed and hand it over to your employee.
Important information on holidays, overtime and salary statements
Make sure that any holidays and overtime are compensated in good time. Continue to check whether you have paid all wages to the domestic help and have credit in your quitt. account. We then recommend that you print out the wage statement in duplicate, give one to your employee and file the other one in your documents. The compensation office automatically sends the wage statement to the employee at the end of each year. This is required by both the employer and the employee for the tax return.
Tips for drawing up the wage declaration and accounting withholding tax
We would like to point out that quitt. only prepares your final payroll after processing the wage declaration, which takes place at the beginning of the following year. We ourselves depend on the speed of the authorities, so in exceptional cases it may take until the second quarter of the following year before all the information is available. Any differences are then clarified in coordination with the cantonal authorities and the corrected amount is debited or credited to your quitt. account.
Organize key return
When you say goodbye to your domestic help on your last assignment and say thank you, it is imperative that you think about the return of keys by your employee. If you have secured yourself with our key receipt, all the better. If upon returning the key you notice it is defective or was lost, you are on the safe side. The key receipt regulates whether the resulting costs are covered by the employee himself or by the comprehensive household insurance taken out with quitt..
Liquidate quitt. account
Do you have no active employer-employee relationship with another employee and will not be using any services of quitt. in the near future? In this case you may liquidate your quitt. account and get your credit repaid. The account can only be liquidated if there are no more open invoices. To liquidate the account, simply click on "Liquidate account" in your login area under "Payments" (see picture with orange marking):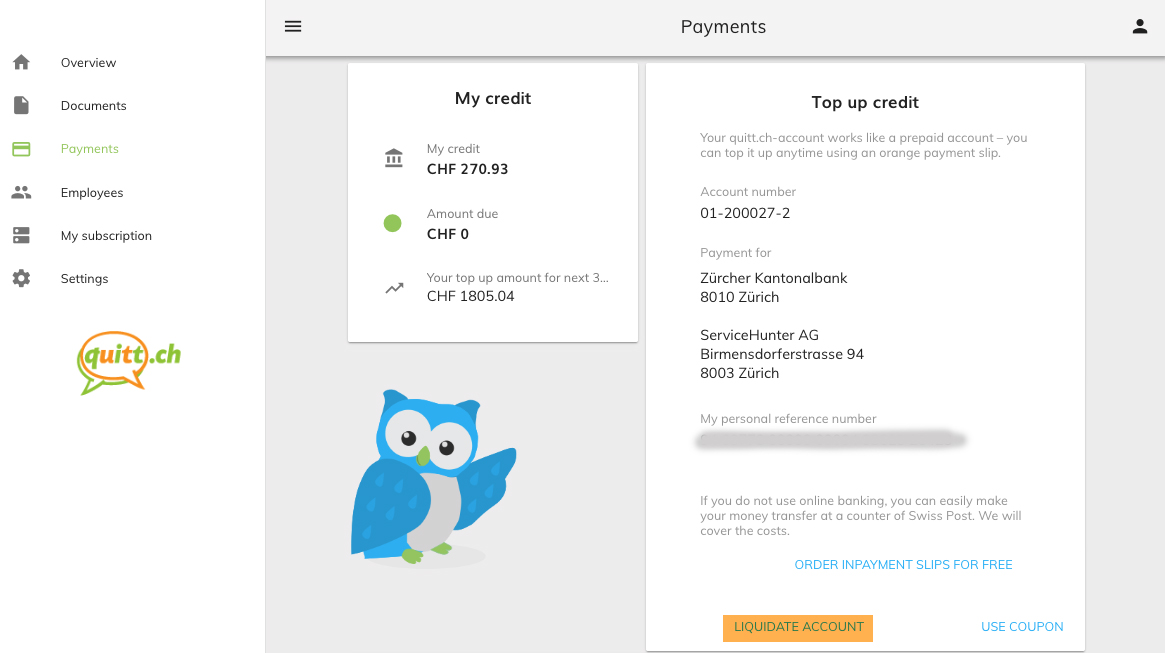 Everything under control thanks to the leaving checklist
To provide you with an overview, we have listed the most important points on the basis of this checklist in case your domestic help leaves.
Draw up work certificate for employee (see blog article work certificate incl. free download of a template)
Comply with the employer's duty to inform the employee about the Swiss Accident Insurance Act (UVG)
Settle compensation for open holidays or overtime
Print out wage statement directly on my.quitt., sign it and hand it over to your employee
Abide by the important tips for the drawing up of the wage declaration
Organize key return (see quitt.key receipt)
If necessary, liquidate quitt.ch account
To make sure you have everything under control, you can download the checklist, go through it step by step, tick off point by point and file it with for your records. If you have any further questions in this regard, you are welcome to comment below.
*Note: For the sake of simplicity, only the male form is used. The female form is of course always included.