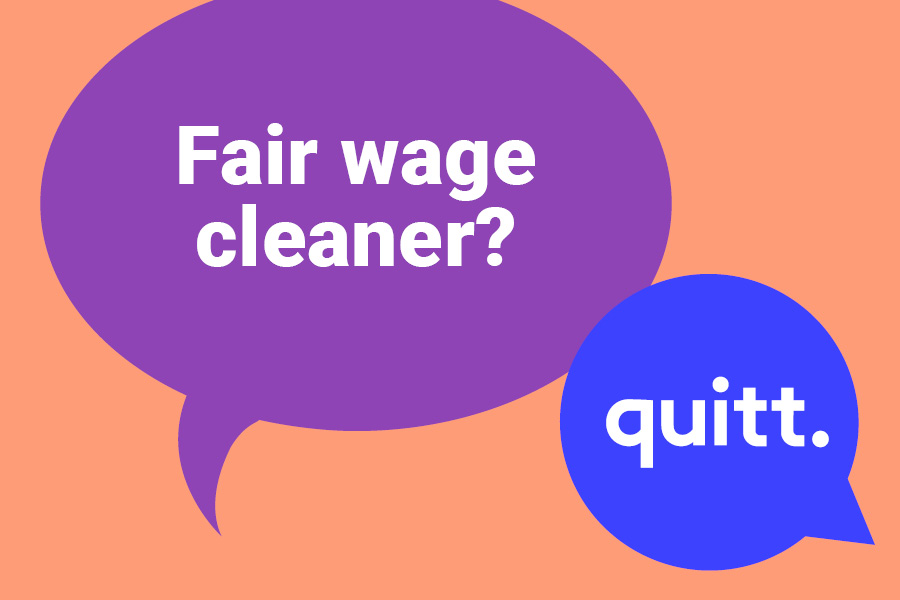 Fair wage for a cleaner in Switzerland?
We tell you how high a fair wage for a cleaner in Switzerland is: The online platform quitt. handles the payroll of over 20,000 domestic helpers in Switzerland and therefore knows the average hourly wage employers pay their private cleaning staff.
We state our wage recommendations for cleaning and domestic help in gross wages. It refers to the salary agreed between the employer and employee for their work before deduction of taxes and social security contributions. We at quitt. recommend a gross wage of between 28 and 33 francs per hour for domestic help. The average in Switzerland is 31 francs gross.
How much do private employers pay a cleaner in Switzerland?
Our wage recommendation is based on the wage details of domestic helpers registered with quitt. Our data is so reliable that it is even used by the Swiss Federal Statistical Office.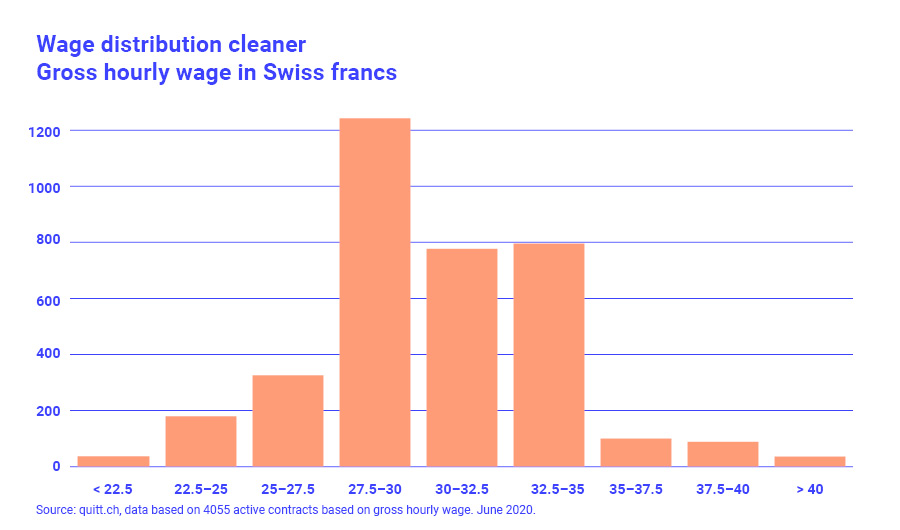 The infographics above show how many employment relationships pay hourly wages in a given spectrum. Most employment relationships have defined an hourly wage between 27.50 and 30.00 francs. This is because a paid net wage usually results in a gross wage of around 28 francs.
The infographics show that private individuals are happy to pay fair wages – as long as they can determine them themselves.
Are there cantonal differences?
In Switzerland, too, there are regional differences in the remuneration of domestic workers, although these are not quite as great as in other countries. Our followwing table shows the cantonal differences in average hourly wages.

Minimum wage in Switzerland – Update March 2020
Even in 2020, there is no generally applicable minimum wage in Switzerland. However, there is a minimum wage for employees in domestic work. With the exception of the Canton of Geneva, the standard employment contract for employees in domestic work (NAV for domestic work for jobs with an average of five hours per week or more with the same employer) stipulates the following gross minimum wages per hour (without holiday bonus):
Unskilled employees without professional experience: CHF 19.20
Unskilled employees with 4 years of professional experience in housekeeping: CHF 21.10
Trained domestic workers with three years of basic vocational training and a Federal Certificate of Competence (EFZ): CHF 23.20
Trained domestic worker with two years of vocational training and a professional certificate (EBA): CHF 21.10
For the canton of Geneva, the following gross monthly wages have applied since 2021:
CHF 4,010.93 per month for a 40-hour working week

CHF 4,211.48 per month for a 42-hour working week

CHF 4,512.30 per month for a 45-hour week
The hourly wage can be reduced proportionally if the wage is paid 13 times per year. More information on the solution in the canton of Geneva in French under:
https://www.ge.ch/employer-du-personnel-maison/salaires
For the quitt.-team it is very important that cleaning staff and domestic helpers are fairly paid. We therefore recommend that the minimum wages are observed – regardless of the number of hours per week. You can find more detailed information on the subject of minimum wages in home economics in the leaflet below.
What is the composition of a salary?
Tip: With our free wage calculator you can calculate your wage with just a few clicks, taking into account all deductions and insurance costs.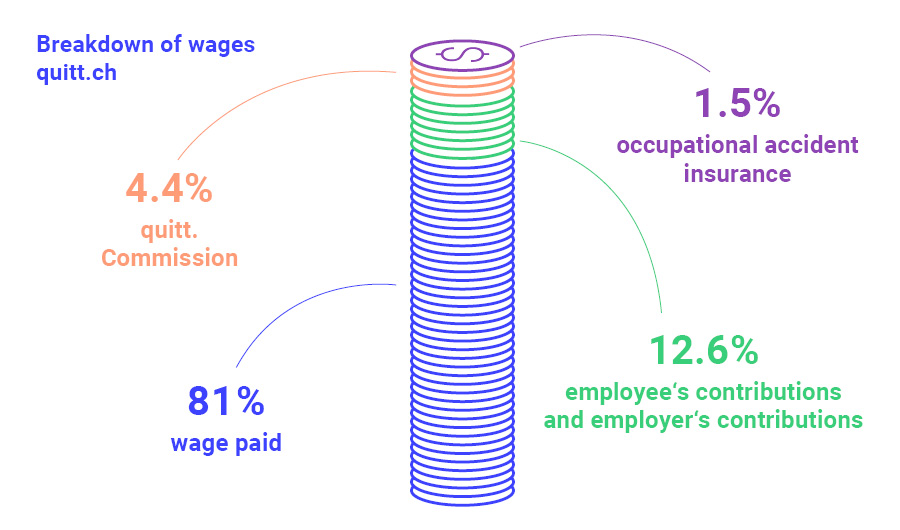 The percentages in the above graph refer to the total wage. Other wage calculations always refer to the gross wage – therefore the quitt.commission here is only 4.4% instead of "5% on gross wage".