What is a fair wage for cleaners?
Once decided to hire a cleaning lady or a cleaner, many people are faced with the question of what would be a fair wage. Based on our experience and the average hourly wage accounted on quitt.ch, we would like to pass our recommendations on to you.
Generally speaking it is important to be aware of the fact that once you hire a cleaner, you will automatically become an employer by Swiss law. This includes all legal compliances and duties. Independent of the total amount of wages, AVS (social security) contributions must be settled. Additionaly the compulsory accident insurance has to be taken out in each case. Crucial points which need to be taken into consideration when determining the wage.
Our recommendations for a cleaner in Switzerland
Our wage recommendations for a cleaning lady or a cleaner are indicated as gross wages. The gross wage refers to the compensation before tax and social security contributions. quitt.ch recommends an hourly gross wage of between 25. – and 30.- CHF. This value is based on the distribution of gross wages on quitt.ch.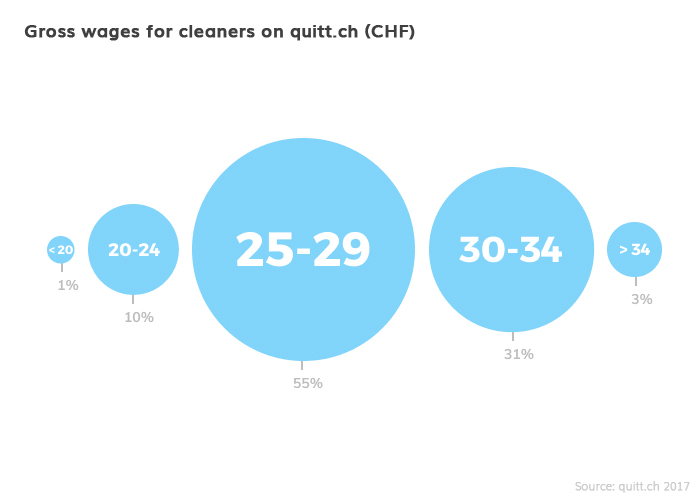 There are also regional differences in wages for cleaners in Switzerland. However they do not turn out to be quite as large as in comparison to other countries. Our infographic shows the cantonal differences in average hourly wages on quitt.ch.
Minimal wages in Switzerland – Update 2017
There is no such thing as a generally accepted minimal wage in Switzerland. Apart from the Canton of Geneva, following minimal gross wages (excluding vacation compensations) are applicable in Switzerland. They are based on the standard employment contract for domestic works (NAV Hauswirtschaft for all employments starting from at least an average of 5 working hours a week with the same employer): Update 2017: The minimal wages have risen slightly, coming into effect as of the 1.st of January 2017. The rates below are the latest.
Cat. "unskilled" CHF 18.90 per hour
Cat. "unskilled with 4 years of experience as domestic worker" CHF 20.75 per hour
Cat. "skilled with EFZ or 3 years of vocational education" CHF 22.85 per hour
Cat. "skilled with EBA or 2 years of vocational education" CHF 20.75 per hour
Fair wages for a cleaner or a cleaning lady are important to us. That's why we recommend complying with these minimal wages – independent of the total amount of working hours per week.
More detailed information on the subject of minimal wages for domestic workers can be found in the fact sheet below.
Fact sheet Minimal Wages Geneva
Tip: Use our free wage calculator to calculate the wages for your cleaner in a matter of a few clicks, including all deductions and the cost of insurance.