We wish you a festive 1st of August!
On the national holiday on August the 1st our company stays closed. The quitt.ch team wishes you a happy holiday and will be back for you on Friday, 2nd of August.
Private employers can use the services of quitt.ch for the insurance and accounting of domestic employees such as cleaners, nannies, babysitters, carers of the elderly, gardeners and private teachers.
An employer who uses the services of quitt.ch is obliged to account and insure all of his or her employees via quitt.ch.
Yes. But if you employ your spouse, your children or exclusively employees of retirement age, you must settle them in accordance with the ordinary procedure.
quitt.ch offers an inexpensive and comprehensive solution for the correct employment of domestic employees. Apart from taking out insurances, we will take care of the compulsory registration and accounting with the compensation office and if necessary the registration with the Cantonal tax office and the pension fund. Moreover, we will provide you with the contract of employment, the monthly pay slips, the wage statement and other documents. quitt.ch also offers a pure insurance solution in case you prefer to take care of filing the documents and settling social security services yourself. Apart from the compulsory accident insurance, with quitt.ch you can take out additional optional insurance solutions such as sick pay, employer defence or household insurance.
In principle yes, you can use quitt.ch to account your employer-employee relationship with retrospective effect. Authorities may charge you with interest on arrears and additional fees. Depending on the complexity of your case, quitt.ch charges CHF 120,00 per hour for extraordinary expenses. Please contact our customer support as we prefer to analyze each case individually.
It is in the responsibility of the employer to obtain a work permit. quitt.ch only takes care of accident insurance and the correct accounting with the compensation and tax offices. quitt.ch does neither verify work permits nor communicate with the migration office.
Condominium owners and associations can only benefit from the services of quitt.ch by using the so-called simplified billing procedure for private employers with a flat withholding tax rate deduction of five percent (you will find more information about the simplified billing procedure for employers in our glossary). Companies or people who are self-employed cannot use the services of quitt.ch.
No, quitt.ch does not directly employ domestic employees. However, quitt.ch takes care of all the paper work when it comes to hiring domestic help in accordance with legal requirements. In this regard, quitt.ch registers employer-employee relationships with the compensation office and insurances, and if necessary with the cantonal tax office and the pension fund. Moreover, quitt.ch provides private employers with necessary documents such as the contract of employment, monthly pay slips and the wage statement.
As a matter of principle, you are allowed to have your domestic help work at different locations. To avoid problems with accident insurance coverage, we highly recommend you stipulate a separate contract for each location and to mention the place of work in each contract explicitly. Example: Your cleaning lady not only cleans your own home but also your family members' or holiday home? No problem as long as you take the following two things into consideration:
You remain the official employer even though the activity takes place in a family member's home.
The nature of the activity remains within the realms of a domestic help (cleaning, light gardening work, care).
Please be aware that your domestic help is not allowed to work in third party households in the context of your employer-employee relationship. You need a licence for the professional hiring of services in order to do that.
We will guide you step by step through the registration process.
Answer 5 simple questions first and we will tell you which of our quitt.ch services and insurances are right for you. If you would like to continue without commitment, you can then enter your e-mail and a password. This enables us to save your data and you can access the information you have already entered at any time. If you do not sign a contract with us, this data will be automatically deleted after 60 days.
The registration process consists of 5 simple steps:
Select your service: Based on the 5 questions you have already answered, we know which quitt.ch services are right for you. You can edit this selection and add or remove services and supplementary insurances.
Add employer: Register yourself as an employer.
Add employees: Register your employee/s.
Create an employment contract: With the help of a few simple questions, you can easily create the employment contract for your employment relationship online. The employment contract is available for download – you are free to use it. We calculate your exact salary costs on the basis of the information provided.
Summary and payment details: We summarize your selected quitt.ch services and basic fees and ask you to accept our general terms and conditions and data protection declaration.
After these 5 steps you have successfully completed the registration process! You will be automatically forwarded to the login area and can start immediately with the administration of hours worked and the creation of the first pay slips. As soon as the basic fees have been paid, all insurance certificates are available for download in the login area.
The registration process consists of 5 steps. First select the desired service, then enter your personal details and then add an employee. To make it easy for you, we have compiled a fact sheet with all the information you need from your employee. For the registration of the employee you need:
First name, last name
Address
Date of birth
IBAN
AHV number
Citizenship
If the employee is not Swiss and does not hold a C permit, the following information is required:
Nationality of the partner
Marital status
Workload of other employment relationships
Number of children
Church affiliation
You can easily download and print out the fact sheet "Registration made easy at quitt.ch". It gives you an overview of the information you need to ask from your future employee in advance.
As soon as your registration process is completed, our work begins:
We register you as an employer with the relevant cantonal equalisation fund.
We register your employee with the relevant cantonal equalisation fund in the correct accounting procedure.
If necessary, we register your employee with the competent cantonal tax authority.
If necessary, we register your employee with the Pension Fund PK-AETAS.
We declare your gross salary to all these authorities and ensure that the correct contributions are settled and paid on time.
We take care of all communication and correspondence with these authorities.
We support you in handling insurance claims, applying for family allowances and/or maternity compensation.
We are available to you as your contact person for individual questions concerning your employment by e-mail and telephone.
In your private login area, you can download all important documents such as employment contracts, pay slips, salary statements and insurance certificates at any time.
On our blog you will also find helpful articles with tips and information about your employment relationship, including practical documents for download.
Each employer pays the basic fee once a year – this applies to all our services. Once it is paid you can account and insure as many employer-employee relationships as you want during a calendar year. An exception to this is our service "Settle AHV + pension fund", which includes the correct accounting of a maximum of two employer-employee relationships that are subject to the pension fund and/or the withholding tax. Each additional employer-employee relationship that is subject to the pension fund and/or the withholding tax will be charged with an extra of CHF 290.–. Employer-employee relationships that are neither subject to the pension fund nor the withholding tax will not be charged extra.
Cantonal offices (compensation and tax offices) as well as insurances (Generali and pension fund) register and account employer-employee relationships on the basis of a full calendar year. This requires quitt.ch to carry out a certain amount of tasks – independent from the effective start and length of an employer-employee relationship. The basic fee funds these tasks.
Yes. It is currently not possible at quitt.ch to use our service without our attractive insurance solution.
In your quitt.ch-account you can easily manage your employer-employee relationships. As soon as you have registered and set up an employer-employee relationship, you can download the contract of employment and other documents such as the monthly pay slips or the wage statement or enter the amount of hours worked. You can top up your quitt.ch-account at any time given via online banking or by means of an inpayment slip to pay your basic fee. quitt.ch will use this money to make sure your domestic help is correctly insured and pay the necessary social security contributions (AHV/EO/IV) as well as the withholding tax. On request, quitt.ch will also take care of the wage payments to your employees. The amounts due and the respective due dates are displayed in the balance of your quitt.ch-account.
You can top up your quitt.ch-account at any time given via online banking or by means of an inpayment slip. You will find our bank details and instructions on how to order inpayment slips in your quitt.ch-account under "Payments".
On 10th of January 2019, quitt.ch starts the end-year declaration of all 2018 services on your behalf. Therefore, as of 10th of January, no more data for 2018 can be recorded. Exceptions are not possible. We now ask you to enter these data for 2019.
According to the Swiss Accident Insurance Act (UVG), all employees in Switzerland must be insured by their employer against accidents. The employer pays the premium for the occupational accident and the employee pays the premium for the non-occupational accident (accident during leisure time). The non-occupational accident insurance (NBU) is compulsory from at least eight working hours per week per employer. Accident insurance is taken out by quitt.ch for all customers with GENERALI. quitt.ch's accident insurance solution is aimed exclusively at private employers of domestic helpers.
At quitt.ch, accident insurance costs CHF 45 basic fee per year and 0.60% gross salary premium for the employer. If a non-occupational accident insurance is necessary, the employee is charged a premium of 1.89% of the gross salary.
Employees who work in Switzerland are compulsorily insured with the old age and survivors' insurance (AHV). For employers of domestic help, every paid activity is subject to contributions.
In addition to the contribution to the AHV, employers and employees pay the obligatory contributions to the disability insurance (IV), the income compensation scheme (EO), the unemployment insurance (ALV) and the family equalization fund (FAK). These contributions are calculated on the basis of gross salary paid. With the quitt.ch "AHV account" service, you can ensure that all compulsory social contributions are correctly accounted for. This includes that quitt.ch registers your employee with the responsible compensation office, provides you with a monthly pay slip with the correct contribution rates and settles this with the authorities. quitt.ch takes over the entire communication with the respective compensation offices in all cantons of Switzerland for you.
This basic service costs you 75 CHF basic fee per year, as well as 5% of the gross sum of salaries you pay to your employee.
You can register any number of employees for this basic fee, as long as the monthly total wage bill does not exceed 1'777.50 CHF.
The income of foreign employees is subject to withholding tax. In this case, the employer is obliged to deduct the tax directly from the employee's income. Persons who do not have a Swiss passport and a settlement permit (C permit) and are not married to a person who has a Swiss passport or a residence permit (C permit) are subject to withholding tax.
The withholding tax rate depends on the employment and living situation of the domestic help. The applicable rate is determined by the cantonal tax office.
Based on a few questions during our registration process, we can determine whether your domestic help is subject to withholding tax. As part of our "Settle withholding tax" service, we register your domestic help with the responsible cantonal tax authority, forward all necessary information on the employment and living situation to this authority and then invoice the withholding tax within the framework of monthly wage accounting in accordance with the applicable rate. Again quitt.ch takes over the entire communication with the responsible authorities.
This service is automatically provided if relevant for monthly salaries higher than CHF 1'777.50 and is included in the package price of CHF 990 for one year. For this price you can register two domestic workers subject to withholding tax.
Salaries below CHF 1'777.50 are settled by quitt.ch with the authorities in a so-called "simplified procedure". In this procedure, withholding tax is not calculated separately with the cantonal tax authorities, but a flat-rate tax of 5% is deducted from the gross salary. This means that the "Settle AHV" service is sufficient for these salaries.
In the case of employment contracts with a gross salary of more than CHF 1'777.50 per month or CHF 21'330 per year, employers are obliged to register their employees with a pension fund for occupational pension provision (BVG/2nd pillar).quitt.ch works together with the pension fund PK-AETAS for the connection of your domestic help to the occupational pension plan. Your employee is registered by quitt.ch with the PK-AETAS and thus saves a credit in the 2nd pillar. The amount of the contributions depends on the gross salary, age and degree of employment and is paid 50% by the employer and 50% by the employee.
The service "Settle Pension Fund" is automatically applied and is included in the package price of CHF 990 for one year. As an employer, you do not have to search for a suitable pension fund, organise the entry, register your domestic help and make regular statements. quitt.ch takes over all communication with the pension fund.
Possible reasons would be:
The power of attorney is not submitted or is submitted late by the insured person.
Wage uncertainties, wage slips are not submitted by the employer or are submitted late
Missing or unclear (contradictory) certificates of incapacity for work
The doctor's reports are not submitted or are submitted late by the attending doctor.
Illness or accident report are not entirely filled out, which is why this entails various queries
The questionnaire on the cause of the accident was not returned immediately by the insured person
Please check the above points and/or contact us at: support@quitt.ch.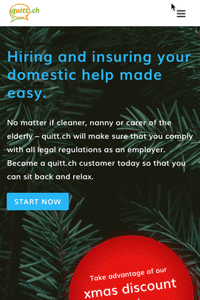 Log into your personal quitt.ch account via quitt.ch.
Follow the instructions on the overview.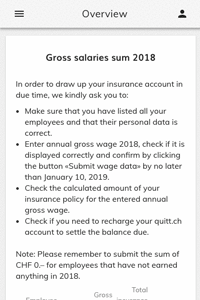 Enter thegross wage 2018 and save it.

Forthefinal transferofthedatatoquitt.ch, pleaseclickon "submitwage data"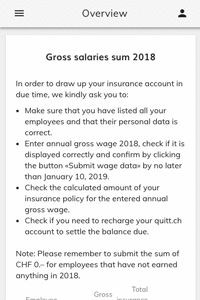 For the final transfer of the data to quitt.ch, please click on "submitwage data".

If the wage data has already been entered before, please only click on "submitwage data"
An accident of your domestic help has to be reported to us immediately. Please contact us per e-mail or by phone. We will clarify if your case is considered a trifle or a notification of claim and send you the respective form.
Please contact our support to apply for family supplements. We will help you to fill in the necessary documents.
Terminate quitt.ch-services
Usually, subscriptions to the services of quitt.ch are renewed automatically. However, customers with subscriptions to the services "Settle AHV" or "Settle AHV + pension fund" will only be renewed automatically in case they have at least one active employer-employee relationship in their quitt.ch-account on December 31st of the running calendar year. For customers who only subscribed to the service "Accident insurance", it will only be renewed automatically if no notice of termination has been given in the quitt.ch-account by December 31st of the running calendar year. All services of quitt.ch can be terminated directly in your quitt.ch-account to the end of each calendar year before the 31st of December.
You can liquidate your quitt.ch account at any time given. We will transfer the residual amount the next workday to your bank or post account. Access your quitt.ch account, select "Payments" and click on "Liquidate account".
As a matter of principle, it is possible to visit our websites without personal data being collected. Personal data will only be collected if you actively communicate them to us while stipulating a contract, opening a customer account or contacting the company.
All data protection regulations are regulated in our data protection policy.
Without your explicit consent, this data will only be used to stipulate contracts and answer your inquires. After completion of the contractual process, your data will be stored according to the respective retention periods determined by fiscal and commercial laws. Unless you have given your explicit consent to use your data, it will remain unavailable for other purposes and will be deleted after the retention periods have elapsed.
All data protection regulations are regulated in our data protection policy.
We commit ourselves to only forward information submitted by you about yourself and your employees (such as name, address, date of birth, AHV number, marital status, residence permit) to social security and other insurance partners and for people who are subject to withholding tax, additionally to the cantonal tax office. Moreover, we commit ourselves to only use and edit the information submitted by you for the fore-mentioned purposes. In particular, we do not forward information to the cantonal migration offices.
All data protection regulations are regulated in our data protection policy.
Do you have any further questions?
Our customer service team will be happy to assist you.