Our vision:
Fair employment
There are over 75 million private workers around the world and they all deserve fair and correct employment. Often they are not employed correctly because proper registration, insurance and administration are time consuming and not very intuitive.
With quitt in Switzerland and Germany, ServiceHunter AG takes care of the correct employment of their private workers for private individuals. With quitt Business, startups and new businesses in Switzerland are supported in the correct employment of their employees. Hiring with quitt is easy, digital and fair.
Don't waste any more time with wage administration and help us to make fair and correct employment the norm for everyone.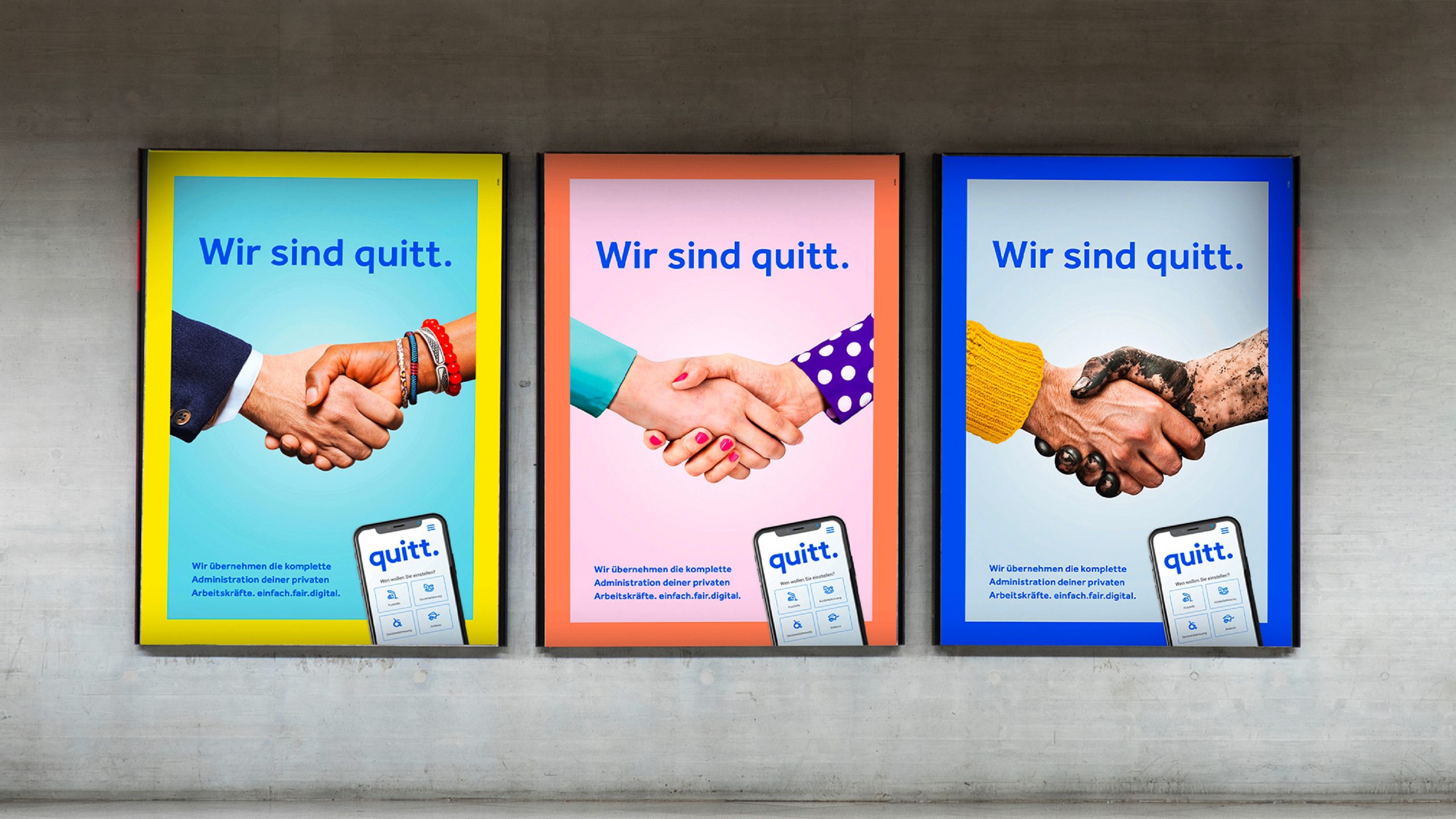 Quality
quitt. as a quality and market leader, strives to continuously improve its services. We are therefore very interested in feedback from customers, employees and partners.

Security
With quitt. you ensure that your household help is insured against unemployment, accident and disability and receives an AHV pension when you retire.

Transparency
quitt. attaches great importance to transparent customer information. All registrations with authorities and insurance companies as well as your wage costs are transparently listed in the receipt account. You can see in detail which services we provide for you.

Reliability
You can rely on our work. Our experts will answer your questions competently, reliably and within a reasonable time. They take care of everything so that you don't have to.
ServiceHunter AG is the provider of the services quitt and quitt Business. Since 2011, the ETH Zurich spin-off has been handling the correct registration, insurance and payroll accounting of private individuals' domestic help in Switzerland. To date, quitt has over 20,000 customers, with around 40,000 employment contracts and a settled payroll of almost CHF 300 million in Switzerland. Starting in 2023, quitt will also offer its services in Germany. With quitt Business, ServiceHunter AG will launch the first intuitive end-to-end payroll accountant for startups and new businesses in Switzerland and support business customers in the payroll administration of their employees for the first time. In the offices in Zurich-Wiedikon, Munich and Yerevan, around 40 employees with eight different nationalities ensure that employers and employees are quits.
We help make the world a better place.
By supporting the UN's 17 goals, we are doing our part to ensure that we can all live in a better world.
A private employee hired with quitt is assured of insurance coverage and the correct payment of social security contributions, which provides protection against loss of wages in retirement and in the event of an accident.

96% of the domestic workers hired with the help of quitt are women, and they must be protected. By employing them correctly and fairly, we create safer working conditions for them and contribute to women's economic independence.

Goal 8: Decent work & economic growth
With a gross wage of CHF 30.28, a private employee earns on average about CHF 10 above the minimum wage and 50% more than someone employed by a cleaning company. The employer and the domestic help determine the wage and work schedule mutually.

Goal 16: Peace & Justice strong institutions
In Switzerland, employers are required by law to insure their domestic help and register them with the authorities. Nevertheless, thousands of people work illegally. By taking over the entire administrative burden, we lower the hurdles to legal employment and are committed to combating undeclared work.
Launch of the advertising campaign: "Wir sind quitt – easy.fair.digital.". Can be seen, heard and read in German-speaking Switzerland on SRF 1/2, 3+, posters, online and in various print media. 100,000 quitt shares become publicly tradable on Aktionariat and quitt opens its first office in Germany, Munich. ??
quitt revises the myquitt customer area to make quitt even easier to operate and use. Domestic helpers can now use a QR code to record their hours worked and expenses themselves via smartphone. More than 20,500 exemplary employers with more than 37,000 employment contracts are registered and quitt has accounted for a payroll total of more than 240 million Swiss francs.
2020
Cleaning help needed?
quitt. covers all 26 cantons of Switzerland in three languages. In October, quitt. launches an innovative, digital employment service for cleaners in German, English and French. Private employers will also benefit from the new service: they can find cleaning staff in their area with just a few clicks of the mouse at https://quitt.ch/en/find-a-cleaner. The digital service is completely free of charge for employers and employees.
2019
quitt.ch becomes quitt.
Redesign of the visual appearance. New insurance partners. quitt. is the first company in Switzerland to digitize its shares on the Ether Blockchain. For the first time quitt. trains a mediamatician apprentice.




2016 bis 2018
Swiss Economic Award
quitt. achieved second place in the "Swiss Economic Award" of the Swiss Economic Forum. The Forum awards the most important young entrepreneur prize in Switzerland. Marie-Christin Kamann takes up the position of quitt. quitt. works together with the Google initiative "Think with Google" on a case study on mobile speed optimisation.

quitt. is awarded as "SEF.High-Potential KMU" and participates in Google's initiative "Growth Engine for European business".

2014
Launch of a pension fund solution
quitt. offers a solution for employment subject to pension fund contributions. Partnership with the aid organisation HEKS in the canton of Vaud.


2013
Press articles increase publicity
Various press articles increase the awareness of quitt. With the campaign "Fehre Anstellung" (Misplaced Employment) quitt. succeeds. a PR coup. quitt. is supported by the Swiss Federal Agency for Innovation Promotion (CTI). Launch of the quitt.card for employees.



With the help of renowned business angels such as Luzius Meisser (founder Wuala), Thomas Dübendorfer (founder SICTIC), Myke Näf (founder Doodle), Paul Sevinç (founder Doodle) and various private individuals, a financing of 600,000 Swiss francs is obtained via investiere.ch. quitt. makes it into the list of the "Top 100 Startups" in Switzerland.

The team drops the idea of a platform and focuses on the automated registration and accounting of all social security contributions for private individuals. Generali can be won as an insurance partner. quitt.ch is supported by the Venture Kick initiative with CHF 20,000.


2010
Foundation of ServiceHunter AG
The two founders Daniel Moser and David Christen meet in the Venture Lab course at ETH Zurich. The idea of developing a platform for services with "automated legalization" of employment relationships gives rise to the ETH spin-off called "ServiceHunter AG".


We are quitt. simple. fair. digital.
We stand for fair employment so that employer and employee are quits.