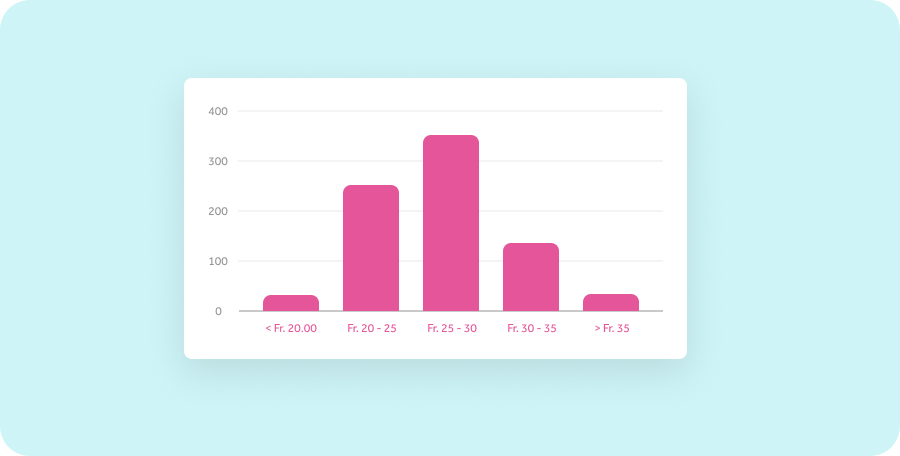 What is a fair wage for a nanny?
For parents, finding a trustworthy nanny for childcare is an important issue. Those who have already found such a person should also hire them correctly and pay them fairly. But what is a fair wage? Here you can find our wage recommendations and the minimum wages for nannies in Switzerland.
Nannies have become an indispensable part of many Swiss households. A nanny, also known as a nanny or childcare worker, is responsible for the well-being and upbringing of the children and for minor household chores that are related to the children. A nanny – in contrast to a babysitter – is responsible for a foreign household for one or more days a week. A nanny study in German prepared for the city of Zurich shows: The nanny labour market is little regulated and working conditions are often precarious. It is mostly women who work as nannies. What many parents do not know: Anyone who employs a nanny for even a few hours a week in a private household for a wage automatically becomes an employer with all rights and obligations. At the latest when an employment contract is drawn up, the question arises as to how high the salary for a childcare worker in Switzerland should be.
Cantonal average wages for nannies
The following wage information is based on 4055 in quitt registered employment contracts of nannies and babysitters employed in Switzerland. These wage data is also used by the Swiss Federal Statistical Office. In the following table the wages are given as gross hourly wages. This means that the statutory deductions for social security and 5 percent withholding tax are still deducted from them. With our wage calculator for nannies, you can also have the net hourly wage calculated simply and quickly, taking into account all deductions and compulsory accident insurance.
Our infographic shows the cantonal differences in average hourly wages on quitt. Nannies earn an average of 27.70 francs per hour in Switzerland. But wages vary greatly depending on the canton.
Wage distribution of monthly wages for private childcare in Switzerland
Our partner "nannyverein.ch" also publishes non-binding wage recommendations (PDF, in German) and useful information on wage and expenses on its website as a nanny interest group.
The following graph shows the pro rata distribution of the employment contracts with real monthly wages of nannies, which are registered on quitt. The basis is a 100% full-time-employment with 42-hours per week.
About a quarter (24%) of the childcare workers registered with quitt earn between 4000 and 4500 francs per month.
Gross minimum wages for nannies in Switzerland
In Switzerland, the "normal employment contract for employees in domestic work" (NAV) applies. This regulates the minimum wage for domestic workers with private employers. However, the NAV Hauswirtschaft does not apply to employment relationships limited to childcare. If, in addition to childcare, domestic work within the meaning of the NAV Hauswirtschaft is also performed (cleaning, laundry, shopping, cooking), the NAV Hauswirtschaft with its minimum wage applies to the entire employment relationship as a minimum. The cantons of Ticino, Geneva, Neuchâtel, Jura and Basel-Stadt also have a cantonal minimum wage that applies to all employees who normally work in the canton. This also applies to employment relationships with nannies.
Source: Ordinance on the standard employment contract for employees and workers in domestic work (in German), as of December 2022, which is valid until the end of 2025.
What do you need to know about nanny wages?
Parents choose nannies for childcare because they can usually provide more comprehensive care for their children than daycare in a crèche. The nanny's education and experience should be rewarded in the salary. A nanny with a degree as a specialist child care worker should be paid according to these guidelines. So-called "live-in nannies" live in their own room in the family home. Accommodation and meals are thus provided by the families, so there are no costs for external accommodation. Experts also speak of employment contracts with "board and lodging". These are payments in kind and wage components. With full board and lodging, a flat rate of 990 francs is added to the gross wage. In principle, nannies who are accommodated with families in Switzerland directly on site are cheaper than nannies who have to provide their own board and lodging.
Nannies and the occupational pension scheme
Since many nannies are employed on a monthly salary due to the many hours of work per week, they must make contributions to the occupational pension scheme (2nd pillar) if their gross salary exceeds CHF 1'837.50 per month or CHF 22'050 per year. They must therefore be registered with a pension fund by the employer or their parents.
quitt offers all services needed when it comes to employing, registering and insuring your nanny in accordance with all legal requirements. quitt handles all administrative employer obligations, offers a favorable pension fund solution and provides all important documents such as the monthly pay statements and a professional employment contract. Further information about the employment of a nanny can be found here.