Cleaner to be registered at the AHV (AVS*) scheme: important facts
The first and at the same time very important step to a legal employer-employee relationship in your household is to sign up your cleaner at the old age and survivors' insurance (AHV). We explain why you have to register your cleaner at the AHV and what must be considered.
*AVS (fr.): Assurance-vieillesse et survivants
If you employ a domestic help or cleaner at home, you automatically become an employer. Hence, if you are an employer of a cleaner, you certainly have to register her/him at the AHV scheme. Each employer-employee relationship is required to be signed up in any case in Switzerland. (This requirement doesn't depend on neither the total wage bill nor the activity rate of the employee.)
Cleaners and the AHV contribution rate
On top of the registration as an employer at the AHV scheme, each employer has to pay a contribution to the AHV for the employed cleaner and to take out an accident insurance. Moreover, every paid activity is liable for contributions.
Next to the contribution to the AHV scheme employers and employees pay additional fees which are compulsory such as:
Disability insurance (IV)
Compensation system for loss of earned income during military service, civil service, community service or maternity (EO)
Unemployment insurance (ALV)
Family equalization fund (FAK)
Accident insurance (UVG)
Pension fund (BVG / 2nd pillar) (from a monthly salary over CHF 1'777.50 per month or over CHF 21'330 per year, a nanny or domestic help needs to be registered at the pension fund)
Sick pay insurance (KTG) (optional, but often completed and protects employees from loss of salary due to illness)
The gross salary results as a base for the calculation of the social security contribution rates. Therefore, it is recommended to agree on a gross salary for the cleaner by contract. Employee's contributions such as AHV etc. are then deducted from the gross salary. Hence, the net wage – also called cash wage – equals the salary, which is payed to the cleaner. With the help of our wage calculator you can simply calculate the salary of your cleaner or domestic help while taking into account all deductions.
Two different billing procedures of the AHV scheme for cleaners
The simplified billing procedure has been specifically developed for cleaners and domestic workers. With this procedure, the earned income will be taxed directly at a flat rate of 5%, independent of the resident status or nationality of the employee. This simplified billing procedure can only be applied for cleaners and domestic help earning less than a gross salary of CHF 1'777.50 per month or CHF 21'330 per year. If the aforementioned criteria for the employment via a simplified billing procedure do not apply in the specific case, the related employer-employee relationship needs to be registered via an ordinary billing procedure. The both billing procedures differ in such a way that in the latter a possible withholding tax has to be deducted directly through the cantonal tax office.
By the way: in our glossary. we explain the most important labour-law-foundations and terms in detail. quitt. is the perfect partner for anyone who wants to save a lot of time and effort in registering a cleaner or domestic worker. quitt. takes care of the registration and accounting with AHV, offers a cheap accident insurance and provides all important documents such as the monthly pay statements and a professional employment contract.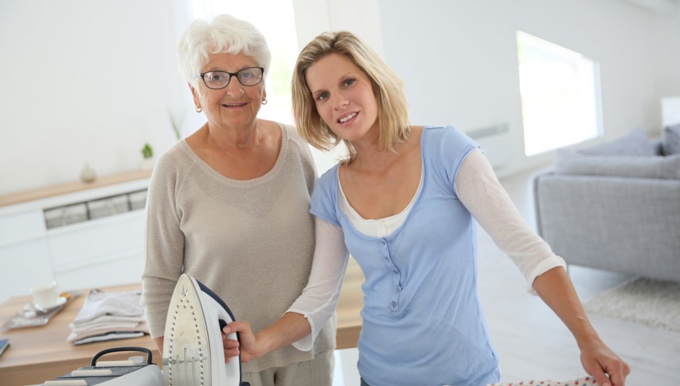 Exceptions for the AHV registration of your cleaner or domestic worker
There is an exemption clause for cleaners and domestic help who have already reached legal retirement age age (women aged 64, men aged 65) which is constituted in the tax free amount of CHF 1'400 per month or CHF 16'800 per year. Contributions to AHV, IV and EO only have to be paid for salaries over this tax free amount. Moreover, unemployment insurance (ALV) is completely eliminated at retirement age.
A further exception with regard to the AHV registration applies to private domestic employees (thus also cleaners) under the age of 26. Anyone employed in a private household earning less than CHF 750 per year are exempt from the contribution rate. Generally, this is especially true for domestic employees such as babysitters. However, apart from a small number of exceptions the annual income of a cleaner is much higher than only CHF 750 per year.
It cannot be repeated often enough that: anyone who registers her or his cleaner correctly, protects itself from heavy penalties and liability cases in the event of an accident. Moreover, it gives NO OPPORTUNITY to black labour in housekeeping and creates FAIR working conditions for its employees at home!